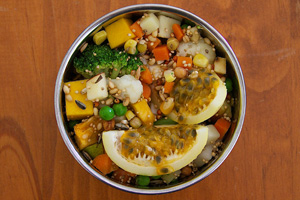 Eclectus Diet
Eckies love fruit and quite literally can't get enough of it. Some prefer vegetables but I know all of ours choose fruits over their veggies any day. Parrots like their fruit ripe, but not overly ripe to the point of being spoilt. Never give your parrot 'seconds' from produce stores or farmers markets. Always buy your Eckie human grade fruit, which you yourself would be happy to eat. Ensure that you thoroughly wash all fruits and vegetables to remove potential pesticides or harmful chemicals.
We provide each Eclectus with stainless steel bowls 5" wide and 2.3" deep. This is filled to the brim with fresh fruit and vegetables every day and it always polished off come nightfall.
We feed our own Eckies the following food ratios
60% of their diet is made up of fresh fruit and vegetables
20% sprouted seed/legumes/pulses
The remaining 20% constitutes their hot meal
Always ensure you feed your Eckie more vegetables than fruit. Fruit is high in sugar and if consumed in too larger quantities can lead to unwanted weight gain. We always feed our kids 2/3 vegetables to 1/3 fruit.
Your Eckie's appetite will fluctuate throughout the year. molting, the onset of winter, growth phases and even hormonal changes will increase your Eckies appetite. I know our feathered kids eat us out of house and home when they are molting. It is quite normal for juvenile Eckies to eat like teenage boys until they are approximately 8 months old. Their appetite starts to settle down after this time. Our clients are often amazed at just how much their new babies can consume.
Molting
When a parrot molts, old feathers fall out and are replaced with new ones. It takes a large amount of energy for parrots to produce pinfeathers, especially if they are heavy molters. Feathers are made from keratin which is a protein. If a parrot is not provided with protein rich foods to supplement this output, their body will be depleted.
Molting can make our feathered kids cranky and moody and who can blame them. I would be pretty grumpy if I had pinfeathers sprouting from every direction. From my experience, increasing protein levels in our parrots' diet helps overcome crankiness and eases them through this uncomfortable time.
The following foods are high in protein
Cooked meat and chicken
Boiled eggs (cooked right the way through)
Almonds
Pumpkin seeds (also known as papitas)
Lentils and pulses
Chia
Asparagus
Broccoli
Cauliflower
Sweet corn
At Parrot Haven, we have our own special molting diet. We feed our molting kids a cooked meal 3 times a week
Tips
Paw Paw helps restore the natural flora in the bird's crop and gut.
Sweet corn is used when a bird has been sick and lost condition. It helps to put weight on a sick or underweight parrot.
The following should NEVER be fed to your Parrot
Avocado, both flesh and seed contains toxins deadly to birds
Rhubarb
Apple seeds
Seeds from stone fruit
Lettuce, has little nutritional value and can cause diarrhea and lead to dehydration
Onions
Any raw meat
Garlic
Cheese, can cause crop impaction
Chocolate
Coffee
Soft drinks
Milk or dairy products, some birds are lactose intolerant and can also lead to crop impaction
Fatty foods or takeaway, e.g. Chinese food, beware of additives such as MSG, preservatives and un natural flavors
Alcohol
Parrot safe foods
Apple
Apricot
Banana
Blackberry
Blackcurrant
Blueberry
Currant
Cherry
Coconut
Date
Dragonfruit
Fig
Gooseberry
Grape
Grapefruit
Guava
Huckleberry
Honeydew
Kiwi fruit
Lychee
Mandarin
Mango
Melon
Cantaloupe
Honeydew
Watermelon
Rock melon
Nectarine
Orange
Paw Paw
Peach
Pear
Plum/prune (dried plum)
Pineapple
Pomegranate
Purple Mangosteen
Raspberry
Rambutan
Redcurrant
Star fruit
Strawberry
Tangerine
Tomato (fruit only not the leaves or stem)
Watermelon-see melon
Pumpkin
Celery
Zucchini
Beans
Carrots
Red chilies (parrots don't have capsaicin receptors. This means they do not feel heat from chilies)
Broccoli
Sweet potato (raw or cooked)
Sweet corn
Spinach
Peas
Cauliflower
Mushrooms
Asian vegetables
Snow peas
Asparagus
Berlotti beans
Black-eyed peas
Broad beans
Chickpeas
Common bean
Garbanzo
Green bean
Lentil
Lima bean
Mung bean
Navy beans
Peas
Peanut
Pinto beans
Runner bean - Raw
Span peas
Snow peas - Raw
Amaranth - raw or cooked
Bok Choy
Broccoli
Brussels sprout
Celery
Ceylon spinach
Collards
Dandelion
Endive
Garden rocket
Kale
Lettuce
Pak Choy
Pea sprouts/leaves
Sorrel
Spinach
Watercress
Wheatgrass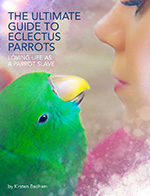 There is a great deal to learn about the Eclectus diet. Our book 'The Ultimate Guide to Eclectus Parrots' provides extensive information about the nutritional requirements of the Eclectus parrot.
This chapter includes information on:
The Eckie appetite
Food ratios
Obesity
The importance of vitamin A
Over supplementing
Dangers of low calcium levels
Pellets
Special molting diet
Egg and biscuit recipes
And many more topics!