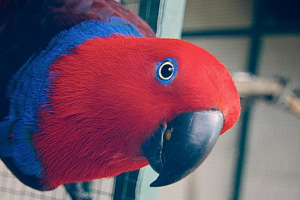 Follow-Up Service
In my opinion good follow-up service is the most important resource a breeder can offer their client. As a potential parrot owner, you will inevitably have questions, especially if something goes wrong. You need a breeder you can trust and turn to for advice or help. Unfortunately, not every breeder offers a follow-up service.
Just like children, parrots go through a number of different developmental stages, both mentally and physically. They love to test boundaries to see how much they can get away with. An experienced Eckie breeder understands these developmental stages and will help explain the changes the parrot is going through. They have many techniques they use to overcome behavioural challenges and if they are prepared to offer support, their experience will be invaluable.
Don't be afraid to call and ask for help. I always reassure my clients that there is no such thing as a silly question. A good breeder will want you to contact them for they care about your Eckie as much as you do.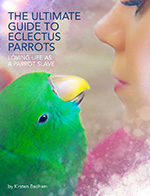 This is a short excerpt from our book 'The Ultimate Guide to Eclectus Parrots'. This chapter highlights the importance of follow-up service by your breeder.
Our book also includes information on:
Showering with your Eclectus
Harness training
Hormonal Eckies
Introducing a second Eckie
What to do if your parrot escapes
Playing with your Eclectus
And many more chapters and topics!