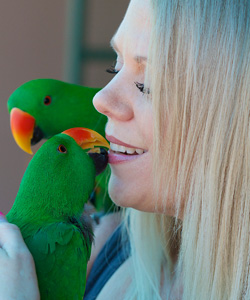 About Us
Kirsten has owned parrots since 3 years of age (1981) and has spent over a decade studying all aspects of aviculture, specialising heavily in the Eclectus parrot. She is the Author of the reference book 'The Ultimate Guide to Eclectus Parrots' and has written articles that have been published worldwide.
Kirsten has devoted much of her life to caring for and understanding these beautiful parrots. Much of this information has been gleaned from her behavioural studies. She has enjoyed success breeding Eclectus in a communal flight with a strong focus on providing her breeding pairs with an abundance of mental stimulus. The results have been phenomenal. She enjoys an amazing relationship with all of her breeding pairs. She can accurately predict the personalities of each of her babies from a specific breeding pair, enabling her to pair each baby with their perfect owner. She advocates responsible animal husbandry and in so doing has helped people all over the world care for these amazing birds.
Driven by a desire to share her knowledge, in 2010 Kirsten and her husband Jason setup their website. Shortly thereafter they setup a blog, this has helped several people reunite with their lost parrots. In 2011, she and her husband setup a web forum "Parrot Chatter" where they - along with several loyal Parrot Haven clients - have helped many people understand the intricacies of Eclectus Parrot care.
Kirsten and Jason recently chose to retire their breeding parrots. Their focus is to help educate owners and better the lives of parrots everywhere. With one reference book completed, they are currently working on to the next manuscript. Their goal is to give insight into life through a parrot's eyes.